4611 OH-235, Quincy, OH 43343
A Family Friendly Camping Experience!
If you are looking for a spacious and relaxing family friendly campground with activities for children and adults, then Oakdale Campground is the perfect spot for you.  Oakdale Campground has something for everyone and it is located in a beautiful and serene area nestled amongst rolling hills right next to the Great Miami River in west/central Ohio just a short drive from Route 33 near Bellefontaine.  If you need to be near water, the Great Miami river is only steps away where you can enjoy fishing, boating or a relaxing float on your raft.   Oakdale Campground has something that will fit your needs whether it's the camping experience, the nature experience, water sports, or just relaxing in the sun or shade.   We want families who visit Oakdale Campground to have a good time and will strive to give you the camping experience you have wanted.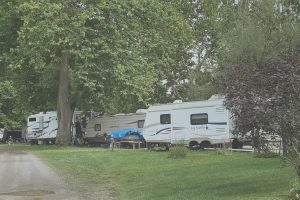 Seasonal Lots
Our seasonal lots are first come first serve.
All lots include 30amp electric, water, fire ring, and lots of room.  Our seasonal guests are encouraged to make the site their own and many have upgraded amenities (decks, gardens, and patio furniture).
Weekly pumping available for waste water
Water is included
Electric is metered & billed monthly per site
Check or call for availability
Seasonal
April 1st – October 31st
Restrooms & Showers
Restroom facilities for Ladies and Gentlemen with flush toilets, handwashing sink, running hot water, and free shower facilities.
Electric and Water
Each of our campsites have 30amp electric hookups and water served from our on-site artesian well.
Multiple Dump Stations
There are 2 sides to the camp ground and each side has a full service dump station with non potable water for clean up.
Playgrounds
There are 2 sides to the camp ground and each side has a playground the kids can use at any time between dawn and dusk.
Pavilions For Use
There are 2 pavilons for use.  On one side, an enclosed pavilion with tables and chairs, outdoor charcoal grill, firepit.  The other is a roofed pavilion with open sides.
Boat Ramp & Parking
We have 2 boat ramps that can accommodate small boats and pontoons.  Free overflow parking if space limitations require it for vehicles and trailers.
Weekend Activities
Our event calendar is updated regularly with new family friendly events that are open to all campground guests and visitors so come and join the fun.
Waste Tank Pumping
We offer on site grey and black tank pumping service at regular intervals for extend stays if you can't make it to the dump station.
Campground Rules
Oakdale Campground is regulated by the Ohio and Logan county laws and Oakdale Campground Rules and Regulations.  All campers, vehicles, and boats must be registered with the camp office.  All guests and visitors must be registered with the camp office.  Only one (1) Camping Unit with wheels is permitted on a campsite.   Up to 10 people are permitted per registered campsite.   A strict 5mph speed limit is posted in the campground for everyones safety and must be followed at all times.  Failure to abide by the Campground Rules or Ohio and County Laws may result in the termination of your camping reservation.
Nearby Attractions
If you are a guest of Oakdale Campgrounds or passing through here are some resources to make your stay more enjoyable.   Degraff and neighboring towns have a variety of food and attractions and would appreciate your business.    A visit to a local business is more memorable than your chain establishments with friendly staff, knowledgeable of the area.
Bars & Lounges
The Pines in Quincy OH : Full service bar, pool table, darts, music, outdoor patio and garden area.  Check their schedule for local bands playing.  It's right on the Great Miami River.
Tammy Lynn Inn : A family owned full service bar.  A local favorite with great service and friendly clientele. 103 S Main St, De Graff, OH 43318, (937) 585-9230
Day Trips
Ohio Caverns West Liberty : The largest of all the cave systems in Ohio.  35 acre park with 2 miles of passageways and guided tours.
Piatt Castles West Liberty : 2 historic houses built by brothers Donn and Abram S. Piatt in the 1860s and 1870s, designed in a Gothic design.  Open for tours.
Shadybowl Speedway : Local racetrack open for 75 years now.  Full schedule of car shows, street, stock, kart, and vintage car racing.
Cambell Hill Bellefontaine : Tourist stop for the higest point in Ohio.  Must be why Ohio has a ski resort in the same area.
Indian Lake Lakeview : Picnicking, playgrounds & trails on 800 acres, plus lake access for boating, fishing & swimming.
Kiser Lake Conover : 531-acre state park includes 396-acre Kiser Lake, for which it was named, and the 51-acre Kiser Lake Wetlands State Nature Preserve.
Airstream Service Factory Jackson Center : Airstream camper factory and full service maintenance and repairs.  Sheduled tours available.
USAF National Museum : This is the National Museum for the US Air Force and it's only 43 miles from Degraff OH.  A worthwhile day trip.  Museum and parking are FREE.
4611 OH-235, Quincy, OH 43343